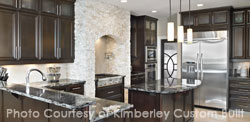 Testimonials
Donna & I are extremely happy with the cabinets. The entire experience has been great from planning to install, we can't wait to start using them! ---- Wayne and Donna Burma, Nov 2012
A year ago, STC Cabinets installed kitchen, bathroom and entertainment cabinetry into our new home. We were so pleased with their service and quality of work that it was an easy choice to ask them to return and complete our basement development. From the design and selection of the cabinetry right through to the installation, we were thoroughly impressed. It was a pleasure to work with the STC staff and we would highly recommend them to anyone building a new home or considering a renovation project.
Ken Wicks & Andrea Stangeland, Jan 2013
I just wanted to send a quick note expressing our gratitude for the wonderful work your company did with our cabinet installation and the wonderful customer service experience we received from you and your staff throughout.
We are very pleased with the end result. Your installers obviously take great pride in their workmanship. Please forward this note onto the installers because Michael and I want to give them well-deserved kudos and let them know of our sincere appreciation of the marvelous job. Well done!
Thank you.
Val Maik and Michael Smith, April 2013
I just wanted to let you know how happy we are with the window seat – you did a beautiful job!!
If I have any further cabinet needs I'll certainly be contacting you.
Thanks so much!!
Cathy Hunden, August 2013
Thank you so much. We love the counter tops... very beautiful. And thank you for the great effort to have ready for Christmas... very appreciated.
All of the staff at STC were very professional and very polite. It has been a pleasure dealing with you all, and I will highly recommend you if I hear of anyone looking for cabinets or counter tops.
Kim and James Fuss, Dec 2013